Medical Staff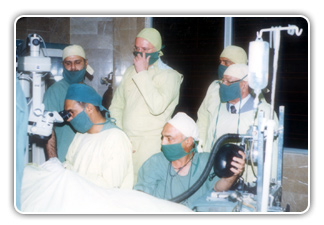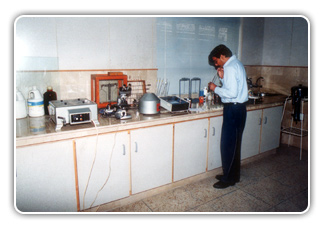 At present the staff of Haji Murad Trust Eye Hospital consists of a team of eight Expert doctors.
Besides, there is one anesthetist and a team of 30 qualified Para medical Staff.

Following diagnostic and surgical facilities are available
Pahco-Emusification
Extra capsular cataract extraction (ECCE)
Intra capsular cataract extraction (ICCE)
Posterior chamber lens implant (PCIOL)
Complicated cataract surgery
Combined surgery (cataract & glaucoma)
Lens matter aspiration
Trabeculectomy
Trabeculectomy with minomicine ''C''
Modified drainage procedure in A/C with tube(silicon)
Examination under anaesthesia for diagnosis purpose(EUA)
Anterior vitrectomy
Retinal Re-attacment surgery
Cryo ablation
trans-Scleral panretinal cryoablation
Ptosis surgery
Strabismus (Squint surgery)
Keratiplasty
Dacryocystorhinostomy (DCR)
Lensectomy
Repair of all types of traumatic injuries
Iris abcission
Supra choroidal fluid drainage
Posterior vitrectomy
Lensectomy and vitrectomy
Epiratinal membrane peeling
Posterior fixation of I.O.L
Yag laser capsulotomy
Yag laser trabeculoplasty
Laser trabeculoplasty
Rottational keratoplasty
Tectonic Grafting
Canhoplasty operations
A.Scan
B.Scan
Perimetry
EMERGENCY SERVICES: In order to meet any emergency and accident cases, the medical staff remains present round the clock to treat such patients.

OPERATION THEATRE: There are two most modern operation theatres in the hospital which are equipped with the latest modern machines. In these operation theatres highly qualified, foreign trained and expert doctors are available to perform their duties with dedication and professional skill.

LABORATORY: The hospital is also equipped with a laboratory in which efficient and expert staff perform their duty. Various tests of the patients are performed with great care and skill, the laboratory is also equipped with the latest apparatus to give first rate results.

LIBRARY: Recently a library has also been set up in the hospital which contains a large number of latest books and literature relating to eye diseases Besides, books on others topics are also available in it. Latest magazines and journals from medical associations of America an England and "International health" on various research topics are also being received regularly, medical staff is taking full advantage of this literature to keep their knowledge up to date.

RECOGNITION FROM PAKISTAN MEDICAL AND DENTAL COUNCIL:
Due to its unique performance and latest facilities, Pakistan Medical and Dental Council (PMDC)' has recognized this hospital for house job training. Eight medical officers can be accommodated in this hospital for house job. The hospital can provide very decent arrangement for boarding and lodging.

Other Facilities: To cater for the needs of the staff and patients a beautiful mosque, canteen, optical shop, medical store, PCO and a car park are available. Another salient feature of the hospital is the presence of lawns, green grassy fields, and beautiful flower beds for the environmental beautification.

RESIDENTIAL COLONY: A residential colony for doctors and other staff members has been constructed in the hospital premises, consisting of 9 residential family flats for doctors and 10 quarters for the other staff. The hospital provides all the facilities including gas, electricity, and water. Arrangement for outdoor games and exercise has also been made for staff in their free time. In the badminton court, badminton can be played in the day time as well as at night in flood light.